Valentine's Day is fast approaching, and it's a great time to show the senior loved ones in your life just how much they mean to you. Here are some creative ways to make Valentine's Day special for an aging loved one:
Have a Movie Night
Valentine's Day is an opportunity to show love and appreciation to the people we care most about. For the elderly in our lives, an accessible and meaningful way to share this holiday is a movie night. Going outside of the traditional chocolate-gifting method of celebrating can foster creativity, as well as make sure that seniors get to experience being part of the special day.
Watching a film together brings emotion, connection, and opportunities for shared memories. Movie nights can be easily organized; from choosing a listing with movies appropriate for all ages, preparing snacks, and making sure the space is comfortable for everyone, there are plenty of ways to create a special evening that both seniors and their friends and family will enjoy.
Cook Together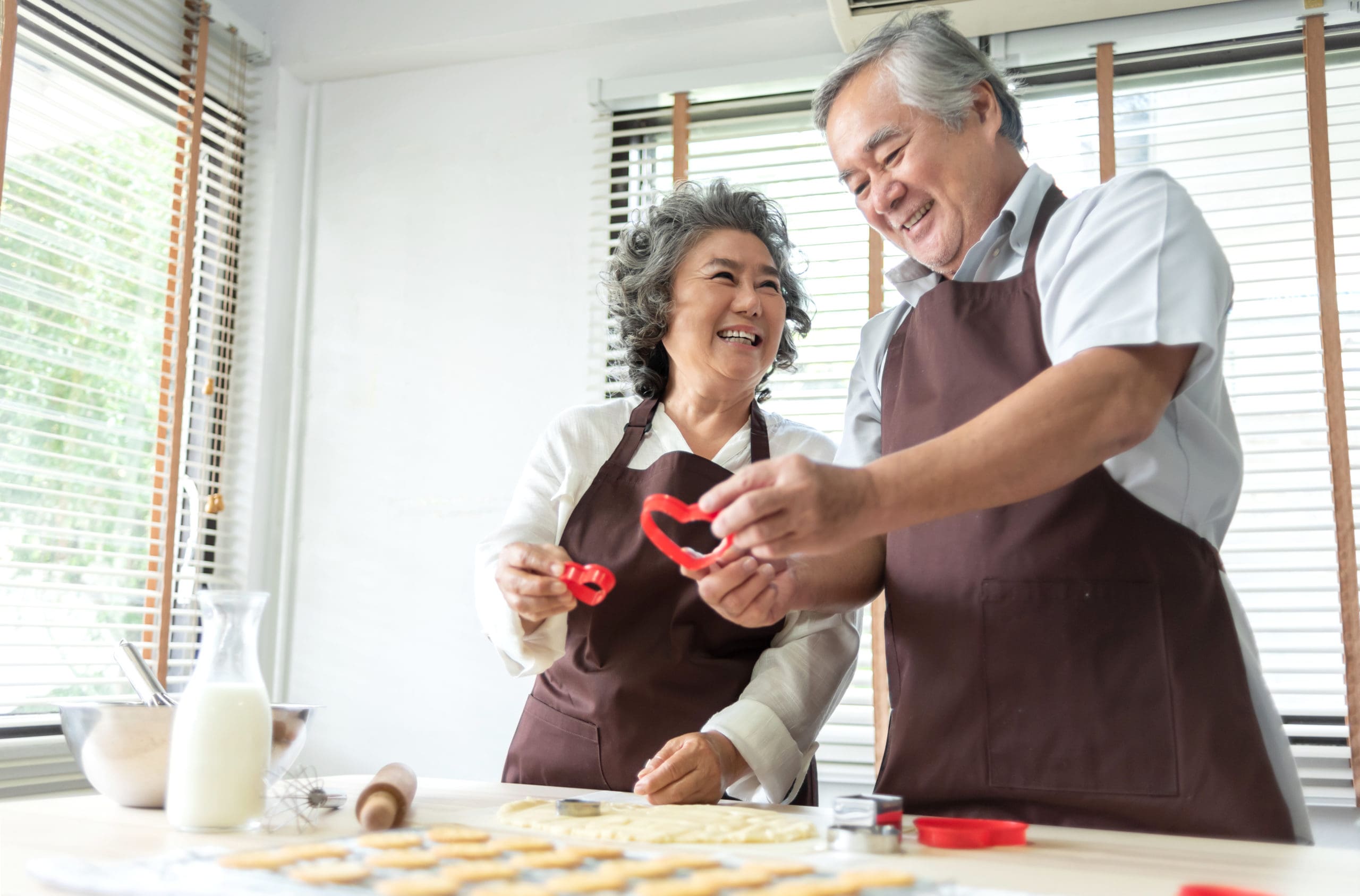 Valentine's day is a great time to get together and show seniors you care. One of the most creative ways to do that with seniors is through cooking together. This can be done virtually or in person and can allow the seniors to share some of their favorite recipes, as well as generation-appropriate decorations and themes that celebrate the occasion.
Exploring new recipes gives them something different to look forward to each year, and it can also connect them with loved ones in a fun way. Plus, this shared activity allows for quality time between generations and creates a memorable experience for all involved!
Work on Puzzles Together
Another of the most creative activities to bring joy on this special occasion is to work on puzzles together. Puzzles are an excellent way to spend quality time because they stimulate the mind, bring out conversation, strengthen memory, develop fine motor skills and help maintain self-confidence. Working on puzzles together can make for lively conversations as some of life's most interesting stories come out in the process of sharing memories associated with picture pieces or items being put together.
Furthermore, seniors' self-esteem may be bolstered by providing a shared activity that has no wrong answers and offers an opportunity to complete a task successfully. Wherever you find yourself celebrating Valentine's Day with seniors, let them know how much they are loved by participating in an activity that promotes companionship and inclusion — spend some time working on puzzles!
Eat Out
Eating out provides a fun way for seniors to celebrate Valentine's Day in a creative manner. As an alternative to homemade dinners, seniors can enjoy a night out by taking the time to appreciate the ambiance of their favorite restaurant. By selecting an eatery that offers delicious cuisine and friendly service, it will be easy for them to create special memories with their loved ones.
Furthermore, they can get dressed up and make the evening even more memorable by attending with friends or family members. This can assure individuals that Valentine's Day is still enjoyable and something to look forward to.
Spend Time Outdoors
Valentine's Day is an opportunity to show love and appreciation to those close to us, including seniors in our lives. Celebrating this special day with them can be made even more meaningful by engaging in outdoor activities. Going for a walk in the park or playing lawn games are beautiful ways to spend quality time outdoors while cherishing each other's company.
Taking photos together, having a picnic in your backyard, or sitting around a campfire can help strengthen the bonds of love and friendship between family members. If the weather prevents outdoor activities, having a party at home with fun board games or watching a favorite movie can bring everyone together for good old-fashioned fun!
Visit Friends and Family
Valentine's day is a special opportunity to express appreciation and love for those in our lives. For seniors, creating meaningful memories with friends and family is a great way to celebrate the season. Visiting family members or friends can create an atmosphere of warmth and appreciation that can be cherished forever.
It's also an excellent opportunity to reminisce about past experiences or create new ones together. Creating meaningful relationships with our elders has countless mental and physical health benefits, so make sure you visit your favorite senior this Valentine's day for an extra dose of love!
Bottom Line
Since Valentine's Day celebrates the love and friendship in our lives, seniors should be included in the festivities. Sharing quality time with them on this special occasion can bring immense joy to everyone involved. Whether it's exploring new recipes, working on puzzles together, eating out, spending time outdoors, or visiting friends and family, there are plenty of creative ways to show seniors how much they are loved and appreciated!