Assisted living facilities provide residential care and support services to seniors while providing a sense of community and social opportunities. Residents in assisted living enjoy comfortable and safe accommodations that allow them to maintain their independence. The caregivers onsite provide help with everyday activities such as grooming, meals, medications, transportation, errands, and much more.
Additionally, most assisted living communities offer private suites and include amenities such as dining rooms and activity centers where residents can gather with friends and family. Assisted living is well-suited for those who need minimal help but want the security of having assistance available when needed. Some facilities may even offer specialized senior living services as part of their offerings, including Alzheimer's care or continuing care options.
But what are the different types of rooms found in an assisted living facility? Let us find out below:
Private Apartments
Private apartments in assisted living facilities provide seniors with a sense of autonomy and the opportunity to maintain their independence. Accommodations typically include a living quarter, a private bathroom, and for some, a small cooking area (also known as a kitchenette); the design may vary from community to community, but all afford seniors their privacy.
A unique aspect of assisted-living apartments is that they are fully customizable — seniors can choose whether they would like assistance with just basic needs, such as bathing and meal preparation, or if they'd prefer more complex help with managing medications, dressing, or other daily activities. With personalized care plans designed according to each individual's needs and requirements, private apartments located in an assisted living setting offer the ideal solution for complete independence and peace of mind.
Condominiums
Condominiums can offer retired individuals the highest level of independence and privacy, especially when found within assisted living facilities. With more space and decorative features in comparison to an apartment, these units are often more reminiscent of luxury condominiums.
This helps make the transition easier and provides a comfortable setting that allows residents to receive care services according to their specific needs and preferences. As a result, condominium-style living in an assisted living complex often stands out as the preferred accommodation for seniors in search of the highest standard of independent living.
Private Rooms
Private room options in assisted living facilities are an appealing option for seniors looking for more privacy. These rooms typically offer a private bedroom and sometimes a private sitting room or kitchen space, with the living area normally being shared within the community.
Seniors who, due to financial constraints, would be unable to afford a full apartment may find that a private room is an ideal compromise. It's important to note that many factors, such as location, services included, and amenities available, all play a role in determining the cost of senior care living in any given facility.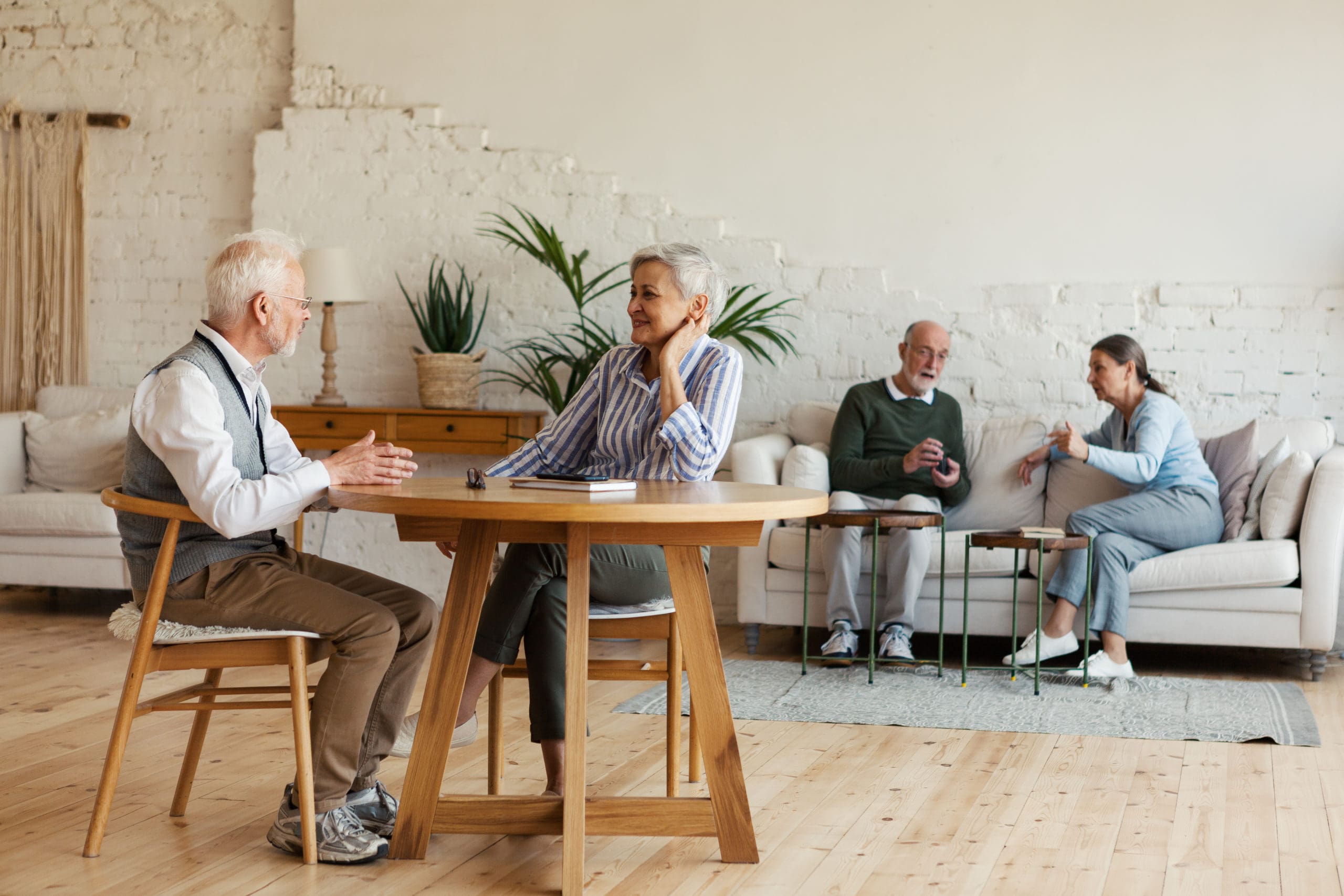 Shared rooms offer a unique opportunity for seniors to socialize and experience a greater sense of community. In addition to enjoying companionship, those living in shared rooms can benefit from the various recreational activities that assisted living communities often provide. While sharing a room does require some adjustments, such as in terms of privacy and space, seniors can rest assured that this type of arrangement is both highly affordable and adaptable.
By taking advantage of organized activities as well as informal opportunities such as sitting down for a friendly game with new friends, seniors participating in a shared living will be able to make the most out of their time in an assisted living facility.
High-tech Rooms
Modern living spaces are becoming increasingly driven by the latest advances in technology and assisted living communities are no exception. Residents of high-tech rooms enjoy the advantage of internet connectivity, which provides an enhanced level of safety and convenience.
Sensors help caregivers monitor seniors in real-time, while voice-activated devices streamline daily activities such as ordering groceries or scheduling doctor's appointments. In addition, specialized safety features make it easier for seniors to move around in their living space with peace of mind. It is evident that assisted living facilities have come a long way in adapting to the digital age through innovative high-tech solutions.
Memory Care Rooms
Memory care rooms are designed to meet the specific needs of individuals suffering from Alzheimer's and dementia. These rooms typically feature reduced clutter and extra safety features such as padding, lighting, and railings that ease mobility.
Depending on a person's health condition, and care requirements, they may opt for a private or shared room in an assisted living facility. Memory care rooms offer the unique opportunity for seniors to receive the highest quality of care that meets their individual needs.
These are the various types of living spaces that are available in assisted living facilities and how they differ. Whether a senior opts for a private, shared, high-tech, or memory care room, they can rest assured that the staff at an assisted living facility will be able to meet their individual needs with great care and compassion.  By understanding these different accommodations and the associated costs, seniors and their families can make an informed decision when looking for the ideal living arrangement.
Bottom Line
Assisted living facilities offer a variety of living options for seniors based on their individual needs. Private rooms are ideal for individuals who want more privacy, while shared accommodation offers companionship and a greater sense of community. High-tech rooms provide access to the latest tools and systems that enhance safety and convenience, and memory care rooms enable those struggling with Alzheimer's or dementia to receive specialized care. 
Ultimately, seniors and their families can find the perfect balance between cost, comfort, and security by exploring different living options at an assisted living facility. With some thoughtful research, seniors can make the most of their golden years in a safe and supportive environment.